Kavitha S Dr., MBA, MCA, MPhil, PhD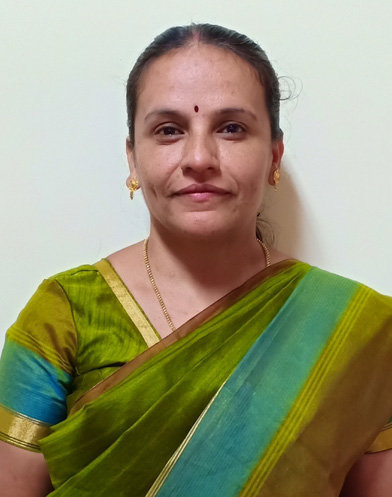 Dr. S. Kavitha completed her UG degree – BSC (CT) – from PSG College of Technology, Coimbatore. She earned her MBA degree from GRG School of Management Studies with Systems and Marketing specialization in 2000. She also holds another Masters degree in Computer Applications from Bharathidasan University. She completed her MPhil degree from Alagappa University in 2006 and PhD from Anna University in 2013. She cleared UGC-NET in Management in 2006. She is a gold medalist in both MBA and MCA. She is the recipient of All India Management Association certificate "Accredited Management Teacher" in the Information technology domain.
She has sixteen years of teaching and three years of industrial experience. She acted as a resource person for number of research workshops. She organized MDP and acted as a resource person for FDPs organized by GRGSMS. She was a Co-coordinator for setting up SAP Business One Laboratory sponsored by AICTE with a fund of Rs. 7 lakhs under the Scheme MODROBS. She has successfully completed the ICSSR sponsored research project entitled "Influence of Social Media on Personality Development Among the Millennials in Coimbatore, Tamilnadu with special reference to Facebook and Whatsapp" worth Rs. 10,00,000. Her FDP proposal on the topic "Research Skill Development for Management Faculty" worth Rs. 7,00,000 has been sanctioned by AICTE.
Dr. S. Kavitha is a recognized guide of Bharathiar University and guiding Phd and MPhil Scholars. She also acted as Doctoral Committee member for the PhD research scholars under Anna University and Periyar University. She is the review board member of many peer reviewed national journals. S. Kavitha has 38 publications to her credit. She has published 20 papers in International journals, 8 in National journals, 10 in ISBN edited volumes.
She is involved in consulting for few companies in Coimbatore through market research and data analysis.
Dr. S. Kavitha is the Champion of the ACBSP International Accreditation process at GRGSMS. She received Best Faculty Award from GRG trust on 3rd April 2018.
She firmly believes that sincerity and dedication will help in reaching higher heights in career.
Contact her at [email protected]