Sabari Rajan GB Dr. MCom, MBA, PhD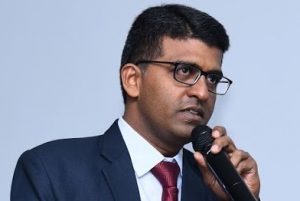 Dr G B Sabari Rajan is the Associate Professor and Finance Domain. He has over 18 years of experience in teaching in reputed B-School and Engineering Colleges. He received his Ph.D degree in Finance from Bharathiar University, Coimbatore in 2015. He is a post graduate in Management and Commerce. Prior to joining GRGSMS he has worked with ICFAI, Hyderabad and INFO Institute of Engineering, Coimbatore.
Apart from teaching he has published more than 27 articles in the scholarly international journals in the areas of Financial Management, Wealth Creation, Measuring Volatility, Risk Management and Security Analysis. He has been a resource person for number of Executive Development Programmes for various MNCs, International Conferences, Faculty Development Programmes etc., also, he has organized number of conferences, Faculty Development Programmes (FDP) and students empowerment workshops.
He is the editorial Board member of National and International Journals listed under ABDC, Scopus and UGC Care. He is a certified Accredited Management Teacher in Finance from All India Management Association (AIMA), New Delhi.
Contact him at [email protected]