Savitha Nair Dr., MBA, MPhil, PhD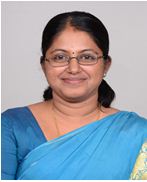 Dr Savitha Nair is the Dean of GRG School of Management Studies. A gold medalist Commerce Graduate from Calicut University (Class of 1997), Savitha holds an MBA, MPhil and PhD in Management. With over 2 decades of academic and industry experience, she has keen interest in Entrepreneurship, Creativity & Innovation, Marketing and Consumer Behaviour. Her Doctoral Research was on 'Innovation Adoption - Performance Linkages among the SMEs operating in the Knitwear Cluster of Tirupur District'.
A Certified 'Entrepreneurship Educator' and a member of Wadhwani Foundation's Global Jury of Startup Mentors, Savitha regularly handles sessions on entrepreneurship and innovation in awareness camps, faculty development programmes and workshops; and mentors potential entrepreneurs among students. She was the founder faculty of a Campus Company promoted by students during her previous academic tenure. A passionate teacher and an avid researcher, Savitha has presented and published her research works in several national and international conferences and journals and won awards. A recognized guide under Bharathiar University, she is presently guiding four PhD research scholars. Savitha has successfully organized national and international conferences and training programmes.
Her international exposure includes handling a course on 'Strategic Management' at International Summer Programme 2019, organised by CETYS University, Mexico, at Ensenada campus. Savitha has also conducted a number of online programmes on 'Social Entrepreneurship' for the students and faculty of Universiti Malaysia Pahang, Malaysia; Swinburne University, Australia; Nottingham Business School, UK; and CETYS University, Mexico.
Contact her at [email protected]