Savitha Nair Dr., MBA, MPhil, PhD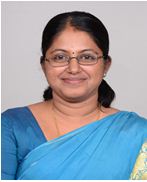 A gold medalist Commerce Graduate from Calicut University, Dr. Savitha Nair holds an MBA, M. Phil and Ph. D in Management. She is also qualified with UGC- NET in Management. She holds 14.6 years of academic experience and 2.8 years of industry experience with a short stint on consultancy. Her areas of academic interest include Marketing, Consumer Behaviour and Entrepreneurship. Her doctoral thesis was on 'innovation adoption-performance linkages among the SMEs operating in the knitwear cluster of Tirupur district'. Savitha is a recognized PhD Research Supervisor of Bharathiar University.
She is passionate about developing standardized instructional techniques for faculty members that can ensure structured classroom delivery to meet the planned course outcomes. A Certified 'Entrepreneurship Educator', she regularly visits various colleges as resource person for entrepreneurship camps, FDPs and workshops. She has participated in several seminars and workshops and has published papers in reputed journals/ conferences. She is the recipient of Best Paper Awards in 3 National Conferences and 2 International Conferences; and Faculty Excellence Award instituted by RVS Educational Trust twice. Presently, serving as the Chair of the Marketing Domain, she has conducted an ICSSR sponsored National Conference and an MDP for the SMEs of Coimbatore.
Contact her at [email protected]
Publications
Savitha Nair, 'Factors influencing Electronic Word-of-Mouth adoption by Consumers: An investigation', International Research Journal of Management Science & Technology, Volume 9, Issue 3, March 2018 (ISSN: 2250-1959)
Savitha Nair, 'Role of sentiment analysis on consumer research: A case study of Reliance Jio', Journal of Contemporary Research in Management, Vol. 12; No.1, January – March, 2017 (ISSN: 0973- 9785)
Savitha Nair, R. Barani & Archana Babu, 'Online Shopping Preferences: An Empirical Analysis', Marketing in an Interconnected World: Trends, Opportunities and Challenges (Ed.), GRG School of Management Studies, March 2017, pp. 86-94 (ISBN: 978-93-86537-32-4)
Savitha Nair & Dhivya. K. N, 'Consumer Ethnocentrism: A Comparison between Generations X and Y', South Asian Journal of Marketing and Management Research, Vol.7 (3), March 2017, pp. 23-32 (ISSN: 2249-877X)
Savitha Nair, 'Facilitators and Barriers to Innovation Adoption', International Journal of Management and Humanities, Vol.2 (9), February 2017, pp. 25-30 (ISSN: 2394-0913)
Savitha Nair, 'Role of Sentiment Analysis in Consumer Research: A Case Study of Reliance Jio', Contemporary Trends in Management and Management Education (Ed.), PSG Institute of Management, January 2017, pp.337-346 (ISBN: 978-93-5268-071-9)
Savitha Nair, 'Impact of eWOM on the Purchase Intentions of Gen Y consumers', Emerging Trends in Business (Ed.), Christ University, February 2017
Savitha Nair, Reshma. M & Sabharinee. G, 'Consumer Preference towards Branded and Non-Branded Jewellery: An Empirical Analysis', Journal of Applied Management Research, Volume 5 (1), January 2017, pp.5-12 (ISSN: 2319-1228)
Savitha Nair, Nivea Nelson N & Karthika. R, 'Consumer Preferences towards Mobile Phones: An Empirical Analysis', International Journal of Applied Research, Vol.2 (12), December 2016, pp. 343-347 (ISSN: 2394-7500)
Savitha Nair & Jaikumar. S, 'Analytics in Store Operations and Retail Profitability: Best Practices and Opportunities in India', International Journal of Exclusive Management Research, Vol. 5 (1), Jan-Feb 2015, pp. 1-6 (ISSN: 2249-2585)
Savitha Nair & Jaikumar. S, 'The eTail Revolution in India: Bubble or Boom?', Journal of Banking, Information Technology & Management, Vol.2 (2), July- Dec 2014, pp- 89-96 (ISSN: 972-902X)
Savitha Nair et al, 'Service Quality Expectations in Hospital Industry: An Empirical Analysis', Commerce and Management: A Modern Perspective (Ed.), Archers & Elevators, pp – 86-96 (ISBN: 978-93-83241-67-5)
Savitha Nair, 'Impact of Business Leadership on Innovation Adoption: A Study with reference to the SME Knitwear Cluster of Tirupur District', Kongunadu Journal of Management, Vol.1 (1), September 2013, pp-175-180 (ISSN: 2321 9823)
Savitha Nair & Poornima. S, 'Innovation Adoption and Business Performance: A Causal Investigation with reference to the Knitwear Cluster of Tirupur District', Prerana Journal of Management Thought and Practice, Vol 5 (2), September 2013, pp-1-16 (ISSN: 0974-908X)
Savitha Nair & Poornima. S, 'Organizational Factors driving Innovation Adoption: A Study on the Knitwear Cluster of Tirupur District', Global Business Operations- Strategies in the transforming scenario (Ed.), Zenon Academic Publishing, pp 95-99 (ISBN: 978-81-9268 19-1-7)
Savitha Nair & Poornima. S, 'Barriers to Innovation Adoption; A Study on SMEs operating in the Knitwear Cluster of Tirupur District', Research Journal of Economics and Business Studies, Vol: 2 (6); April 2013, pp-117-123 (ISSN: 2251-1555)
Savitha Nair & Jayshree. T, 'Risk –the Return for Own Venture?', Compendium of Case Studies, CII Coimbatore Zone 2012; pp-33-38
Savitha Nair, 'Innovative Business Practices: Case Study on Tirupur Knitwear Cluster', Journal of Management and Science, Vol.2; June 2012, pp-61-65 (ISSN: 2249-1260)
Savitha Nair & Poornima. S, 'Antecedents and Consequences of Innovation: A Review of Literature on SMEs', Innovative Strategies for Global Competitiveness (Ed.), June 2012, pp: 341-348 (ISBN: 978-93-81537-03-9)
Savitha Nair & Poornima. S, 'Rural Vs Urban Consumer Behavior: An Empirical Study to compare the Buying Behavior of Rural and Urban Consumers towards the Purchase of Two Wheelers', Impact of Micro Finance in Enhancing the Competitiveness and Growth of Rural Markets in India (Ed.), MacMillan Publishers India Ltd, May 2011 (ISBN 10:0230-32268-9-4)
Savitha Nair & Poornima. S, 'Role of NABARD in Microfinance Lending in India', Impact of Micro Finance in Enhancing the Competitiveness and Growth of Rural Markets in India (Ed.), MacMillan Publishers India Ltd, May 2011(ISBN 10:0230-32268-9-4)
Savitha Nair et al, 'Can Green Innovations lead to Sustainable Development? A Case study on the Knitwear Cluster of Tirupur', CIBMP Global Conference Proceedings (Ed.), July 2011(ISSN 2046-6242)
Savitha Nair & Poornima. S, 'Innovation Enhancement through Information and Communication Technology Adoption: An Empirical Study with reference to the Small and Medium Enterprises of the Knitwear Industry in Tirupur', RVS Journal of Management, Volume 4 (2), July 2011, pp- 9-18. (ISSN 0975-3435)
Savitha Nair, 'Experiential Education: A Dynamic Approach to make Management Education relevant to the Corporate World', Classroom to Corporate – Bridging the Gap (Ed.), March 2011 (ISBN No: 978-81-909150-6-9)
Savitha Nair, 'Understanding Social Entrepreneurship from an Inclusive Growth Perspective', Application of Modern Management Thoughts (Ed.), February 2011 (ISBN No: 978-81-909150-7-6)
Paper Presentations
Savitha Nair, R. Barani & Archana Babu, 'Online Shopping Preferences: An Empirical Analysis', National Conference on Marketing in an Interconnected World: Trends, Opportunities and Challenges, GRG School of Management Studies, March 2017
Savitha Nair, 'Impact of eWOM on the Purchase Intentions of Gen Y consumers', International Conference on Emerging Trends in Business, Christ University, February 2017
Savitha Nair & Dhivya. K. N, 'Consumer ethnocentrism: A Comparative Study of Gen X and Gen Y Consumers', International Conference on Emerging Trends in Business, Christ University, February 2017
Savitha Nair, 'Role of Sentiment Analysis in Consumer Research: A Case Study of Reliance Jio', Southern Regional Conference on Management Education – A Global Perspective, PSG Institute of Management, January 2017
Savitha Nair & Jaikumar. S, 'Analytics in Store Operations and Retail Profitability: Best Practices and Opportunities in India', International Conference on Advanced Management – Challenges in Knowledge Era, Jamal Institute of Management, January 2015
Savitha Nair & Jaikumar.S, 'The eTail Revolution in India: Bubble or Boom?', International Conference on Contemporary Issues & Innovations in Global Business, Management, Economics, Tourism and Information & Communication Technology, RDA, November 2013
Savitha Nair & Poornima. S, 'Innovation Adoption and Business Performance: A Causal Investigation with reference to the Knitwear Cluster of Tirupur District', National Conference on Building Futuristic Organisations: Developing Sustainable Competitive Strategies, GRG School of Management Studies, March 2013
Savitha Nair et al, 'Service Quality Expectations in Hospital Industry: An Empirical Analysis', National Conference on Emerging Trends in Business, Christ University, January 2013
Savitha Nair & Poornima. S, 'Does Innovation lead to Business Performance: A Review of Empirical Evidences on SMEs', National Conference on Challenges and Strategies in the Indian Business Context, Vellalar College of Engineering and Technology, March 2011
Savitha Nair, 'A Study on the Working Efficiency of Women Entrepreneurs at Tirupur', State Level Seminar on Women Entrepreneurship in Tamil Nadu – Opportunities and Challenges, Bharathiar University, March 2011
Savitha Nair, 'Understanding Social Entrepreneurship from an Inclusive Growth Perspective', National Conference on Application of Modern Management Thoughts, Hindustan School of Management, February 2011
Savitha Nair, 'Experiential Education: A Dynamic Approach to make Management Education relevant to the Corporate World', National Conference on Classroom to Corporate – Bridging the Gap, SSK College of Engineering and Technology, February 2011
Savitha Nair & Poornima. S, 'Innovation Enhancement through ICT Adoption: An Empirical Study with reference to the Small and Medium Enterprises of the Knitwear Industry in Tirupur', National Conference on Innovative Management Strategies, RVS IMSR, January 2011
Savitha Nair & Poornima. S, 'Rural Vs Urban Consumer Behavior: An Empirical Study to compare the Buying Behavior of Rural and Urban Consumers towards the Purchase of Two Wheelers', National Conference on Impact of Microfinance in Enhancing Competitiveness and Growth of Rural Markets in India, PSGR Krishnammal College for Women, December 2010
Savitha Nair & Poornima S, 'Role of NABARD in Microfinance Lending in India', National Conference on Impact of Microfinance in Enhancing Competitiveness and Growth of Rural Markets in India, PSGR Krishnammal College for Women, December 2010
Savitha Nair, 'Investment Market in India-Issues and Challenges', National Conference on Recent Trends in Financial Services, Annamalai University, October 2007
Savitha Nair, 'Internationalization of Innovations in Retailing', State Level Seminar on Innovative Concepts and Techniques in Managerial Decision Making, CMS College of Science and Commerce, October 2007
Areas of Interests
Marketing, Consumer Behaviour Research, Entrepreneurship