Vandana Madhavkumar, Dr. Ms. MBA, MPhil, PhD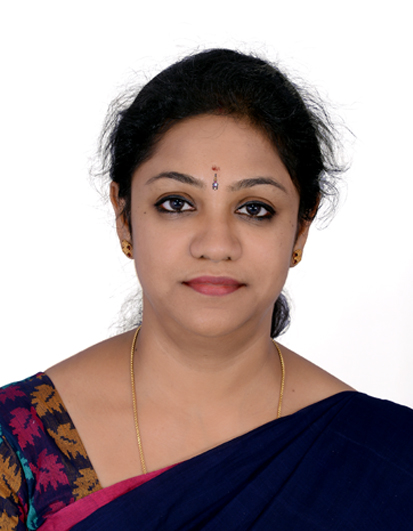 Dr. Vandana Madhavkumar has over 13 years of professional experience in industry and academia.
Vandana has an MBA degree from Rani Durgawati Vishwavidyalaya, Jabalpur, Madhya Pradesh (2000). She did her M.Phil from Annamalai University, Chidambaram. She is an alumna of IIM Ahmedabad (FDP – 2010). Vandana obtained her doctoral degree from Bharathiar University in 2016.
She specialises in Human Resource Management with a focus on Business Communication. Vandana has also published papers in reputed journals and written cases. One of the cases she co-authored has been registered with the Case
Centre, UK. She is an accomplished teacher and has won national recognition for her contribution to the academia. GRG Trust awarded her the 'Best Faculty Award' in March 2017 for her contribution to the institute. Vandana has been awarded the gold medal at the 'J.L. Batra Best Research Paper Award' by the Association of Indian Management Schools (AIMS) in August 2014. She is also the recipient of the 'Best Paper award in HR' at the Conference on 'Emerging Trends in Business' organized by Christ University, Bengaluru in December 2013. She has completed a UGC sponsored research project.
Vandana believes in developing strong relationship with the industry and has been the Industry Relations Coordinator of GRGSMS. She has undergone a faculty immersion programme at Sara Elgi Group, Coimbatore, and done consulting assignments for the Group. Vandana has organised Management Development Programmes (MDPs) in the area of HR and Business Communication. She also designs, develops and organises training and development programmes in management for working professionals as part of her role as programme administrator at GRG Centre for Advanced Studies (GRGCAS). She has conducted training programmes in Business Communication for notable companies in and around Coimbatore.
She is an active member of Coimbatore Management Association (CMA), National Institute of Personnel Management (NIPM) and CII's Indian Women Network (IWN).
Contact her at [email protected]